WORLD-WIDE TOWER CRANE ACCIDENT STATISTICS
2000 - 2009
---
For additional photo's or information on the following accidents, email - terry@towercranesupport.com
---
Germany, 09 - Potain - dismantling 57m jib accident.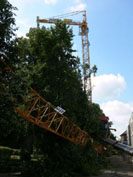 ---
UAE, 09 -
Story goes that the operator an a project engineer argued over climbing procedures, the engineer
climbed up the crane to "discipline" the operator. When he got to the cab the operator hit him
over the head with a bar, the engineer fell 40m to his death!

---
---
---
---
---
---
Korea, 09 - Climbing accident, 3 DEAD
---
---
---
2007, 3 hours to rescue operator

---
PAGE - 1- 2- 3- 4- 5- 6 - 7 - 8 - 9 - 10 - 11 - 12 - 13 - 14 - 15
16 - 17 - 18 - 19 - 20 - 21 - 22 - 23 - 24 HOME

Translation