---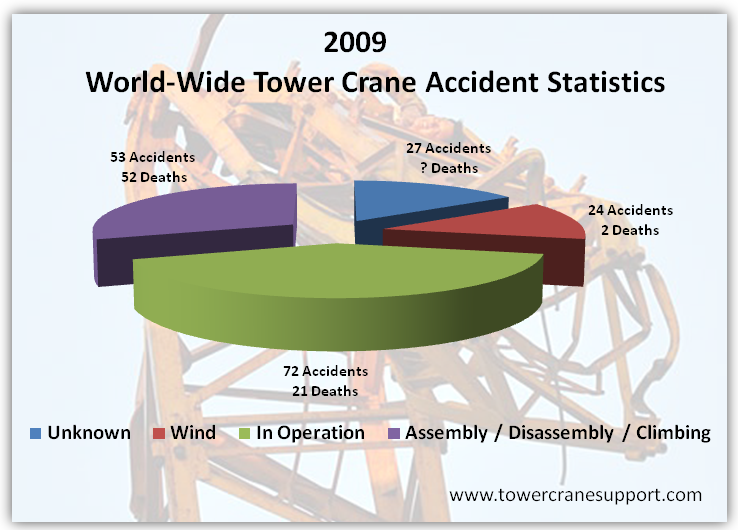 176 ACCIDENTS resulting in 75 DEATHS.
Incident Analyses:
Assembly = 15 Accidents - 5 Deaths:
Disassembly = 14 Accidents - 10 Deaths:
Climbing = 24 Accidents - 37 Deaths:
In Operation = 72 Accidents - 21 Deaths:
Primary failures: Structural, Technical, Foundation, and Operator error where only 5 could be verified.
Wind = 24 Accidents - 2Deaths:
Operator error may account for many of these accidents - due to improper shutdown procedures.
Unknown = 27 Accidents - ?? Deaths:
---
JUNE, 2010 - INTERNATIONAL CRANES "WEATHERVAIN" ARTICLE
---
Read "unedited" article that appeared in the September, 09 issue of International Cranes.
VIEW


My goal here is to bring awareness to those that believe it won't happen to them! If anyone has additional
information on these or other accidents please email me. terry@towercranesupport.com


Below are just some of the more detailed, infamous accidents from around the world!
---
Worthton, 2005 - A Wolff 320BF( Luffer ) tower crane collapsed into another crane during dismantling.
( 2 Deaths, 1 Injured ).

This "common" practice of loosening / de-torquing mast bolts to "finger" tightness ( or less ) prior to
dismantling and or climbing a crane down, and also during assembly, is still going on to this day!

Germany, 2008 - Liebherr collapse due to bolt de-torque during disassembly.

If anyone knows of other similar tower crane collapses due to mast bolt loosening, please email me details.
---
USA 2012, Dallas Texas - 2 DEAD
I have been warning about the premature loosening of mast bolts for years!
At least 6 out of 8 bolts were removed from this section alone!



View my analysis> CLICK HERE


---
Taiwan, Taipei: 2002 - "TWO" Favco-440D Tower (Luffer) Crane collapse from the 56th floor
during an earthquake! ( 5 Deaths, 23 injured ).
Check out this video of the crane going over! ( about 30 seconds into clip ) "VIEW HERE"
This video shows both cranes going over! "VIEW HERE"
Another - VIEW

---
PAGE - 1- 2- 3- 4 - 5 - 6 -7 - 8 - 9 -10 -11 -12 -13 -14 -15
-17 - 18 - 19 - 20 - 21- 22- 23 - 24 - HOME